Inner Defense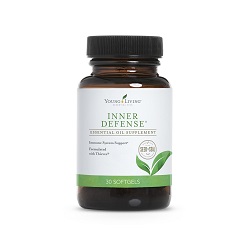 About the Product
Young Living's Inner Defense™ reinforces systemic defenses, creates unfriendly terrain for yeast/fungus, promotes healthy respiratory function, and contains potent essential oils like oregano, thyme, and Thieves® which are rich in thymol, carvacrol, and eugenol for immune support. The liquid softgels dissolve quickly for maximum results. Softgel capsule has been reformulated with fish gelatin to remove the need for carrageenan and bees wax used in the porcine gelatin based softgel.
Price
Retail: $36.18
Wholesale: $27.50
YL Product #: 3295
How to Use
Take 1 softgel daily (a.m.) or take 1 softgel 3-5 times daily when needed. For best results use Life 9™ 8 hours later. Keep out of reach of children. If pregnant, nursing, taking medication, or have a medical condition, consult a healthcare practitioner prior to use. Keep in a cool, dark place. Do not expose to excessive heat or direct sunlight. Contains fish (tilapia, carp) and tree nuts (coconut).
Why pay retail?
Save up to 24% with Wholesale Pricing!
Did you know you could save up to a whopping 24% on your purchase by becoming a Young Living Member?
What does it mean to be a member? Well, it doesn't mean you are committing to purchase month after month after month. It doesn't mean you are now a salesperson with a quota. What a membership does mean is that you have the ability to purchase a great set of starter oils and you get to make all future purchases at a great discount! It also means that once you fall in love with Young Living products, like I did, you will have the option to tell others about them AND receive a commission check on their purchases!
Ready to sign up? Need to learn more? Click below! Want to just purchase retail for now? No problem! There's an option for that below too!