Dolphin Reef Ultrasonic Diffuser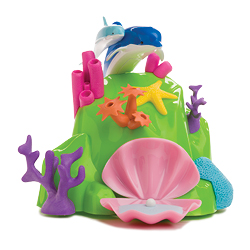 About the Product
Young Living's Dolphin Reef Ultrasonic Diffuser features a playful mother dolphin and her calf swimming through color-illuminated vapor released by pink sea sponges. The colorful coral, starfish, sea anemones, and a pearl-bearing giant clam will captivate your children's imaginations and transport them into an undersea wonderland, all while enjoying the benefits of diffusing Young Living's 100% pure, therapeutic-grade essential oils. The patents-pending Dolphin Reef Ultrasonic Diffuser acts as an atomizer, aroma diffuser, and night-light all in one fun-filled, simple-to-use product and includes: • A proprietary, interchangeable diffuser cover system • Innovative diffuser motor compatible with additional diffuser covers (other covers sold separately) • Continuous or intermittent (10 minutes on/10 minutes off) ultrasonic diffusion with automatic shutoff • Four white under-panel soft LED lights with on/off settings • Six vapor LED light settings (blue, white, red, green, alternating, and off) • Giant clam that can be used to store jewelry and other small treasures Contents: Dolphin Reef Diffuser Cover, Diffuser motor, AC power adaptor, Operation manual Dimensions: 27.5 x 26.6 x 24.8 cm The multi-compatible diffuser motor that is included with the Dolphin Reef Diffuser can also be used with the Dino Land Diffuser Cover (sold separately). Product Information Page Flyer
Price
Retail: $128.29
Wholesale: $97.50
YL Product #: 5333
How to Use
1. Remove motor lid.
2. Add room-temperature tap water until level reaches, but does not exceed, the water fill line. (Always unplug the diffuser when filling or emptying the water reservoir.)
3. Add 5-8 drops of Young Living essential oil.
4. Place the lid back onto the motor.
5. Plug the power line plug into the motor.
6. Place the diffuser cover onto the motor and press down on the cover to ensure that the connecting latches click to the locked position.
7. Plug the power adaptor into a power outlet.
8. Press the Power button to turn on the diffuser.
9. To remove the cover from the diffuser motor, press both cover release buttons (C) at the same time, and then lift the cover off of the motor.
Why pay retail?
Save up to 24% with Wholesale Pricing!
Did you know you could save up to a whopping 24% on your purchase by becoming a Young Living Member?
What does it mean to be a member? Well, it doesn't mean you are committing to purchase month after month after month. It doesn't mean you are now a salesperson with a quota. What a membership does mean is that you have the ability to purchase a great set of starter oils and you get to make all future purchases at a great discount! It also means that once you fall in love with Young Living products, like I did, you will have the option to tell others about them AND receive a commission check on their purchases!
Ready to sign up? Need to learn more? Click below! Want to just purchase retail for now? No problem! There's an option for that below too!